How to make money from your garage sale is one of the most common questions we get here at the My Garage Sale App blog. So today we're answering it with an easy-to-read article that outlines how you can make money by hosting or attending a garage sale. We hope this helps you learn how to make $1000 in a garage sale!
How to Make $1000 in a Garage Sale and How You Can Too!
If money weren't an issue, how many garage sales would you throw in a year? How many items would you sell? How long would it take to unload them all? How much money would you make?
I just answered those questions for myself, and now I'm going to share my tips and tricks with you. The following is a step-by-step tutorial on how I made $1,000+ from one garage sale – and how you can too!
Furniture flipping is one of the most lucrative, easy things you can do to quickly rack up some big bucks at your garage sales. Furniture flipping is a highly profitable method on how to make $1000 in a garage sale because you can purchase items for super cheap (or even free) and sell them for $100+!
Here's how it's done:
Find the best deals for furniture by searching places like Craiglist, Facebook Marketplace, and other garage sales. (We use the My Garage Sale App for this – it's like a free Craiglist). If you find something at a garage sale that could use a little fixing or restoration, purchase the item, restore it, then resell it at your garage sale, on Craigslist, or the Facebook Marketplace.
Your goal is to find the cheapest or free items that are still in decent condition, not something that's going to take you hours of work.
This is your basic, inexpensive fix-and-flip method. You buy it, fix it, then resell it at a higher price point. This is by far the easiest method on how to make $1000 in a garage sale.
$120 profit on $30 investment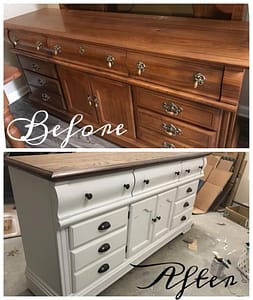 Here's a perfect example: I found a $10 dresser on the Facebook Marketplace that needed a little bit of love. It had several scratches across the top and it looked a little outdated.
I then purchased a small 30 oz, linen white bottle of chalk paint for around $11. I had a can of walnut-colored wood stain in my garage from a previous project (always keep track of what you already have on hand too as most of the restoration supplies will cover more than one project). I also found a bag of knobs and handles at a garage sale last summer for $5 that I knew would come in handy one day. You can get a set of knobs for $6.99 on Amazon.
I cleaned the dresser, sanded it, applied the new chalk paint, stained the wood, then let the paint dry for 24 hours. Last, I screwed in the new knobs and handles, snapped a couple of pics of the dresser, posted it back on the marketplace, and it sold within 2 hours at $150.
In total, it took about 10 minutes to find the dresser while searching online, it was about 10 minutes away from my home to pick up, and 10 minutes to drive back. Painting the dresser took less than 30 minutes to paint. In total, it was roughly about an hour to find, pick up, and restore the dresser. It took 2 minutes to create a listing for the dresser.
That's roughly under $30 invested and $150 earned, totaling a net profit of $120 for under an hour of work (and 24 hours of waiting for the paint to dry)!
If you do this 10x in a week, you'll have made over $1,000! In this example, let's say we actually did this scenario 10 times. We spent $30 each time and netted $120 in profits. That'd total $300 spent purchasing supplies and furniture, a grand revenue total of $1,500, and a net profit of $1,200! That's over $1,000 in profit straight to your pocket for under 10 hours of work!
Now let's take this scenario and apply it to How to Make $1000 in a Garage Sale. If you're already planning on having a garage sale because you're not on Facebook and Craiglist gives you the creeps, then simply set the items to the side until the day of your garage sale. If you want to know how to make $1000 in a garage sale almost guaranteed, start with MORE than 10 items.
Furniture Flipping is the Perfect Example of How to Make $1000 in a Garage Sale
You can do this for just about any item of furniture – dressers, cabinets, beds, bookcases, desks, tables, chairs, and other items tend to do exceptionally well (not garage sale items like appliances and clothing).
Once you find a product at a low price that you think you can sell for $100+, start by doing a little bit of digging to make sure you don't dump your money into an item you won't be able to fix-and-flip. There are 2 things you'll want to research for every item you want to resell.
The products retail price and what it has sold for on the marketplaces previously
How to restore the items (if you don't know how)
First, start at Google and try to find the exact item (or at least the closest one you can find) on retail sites, what it sells for brand new. Then, search the marketplace for that exact item (or again, at least the closest one you can find to it) and look at the listings that have been marked as "sold". This will give you an idea of what the products can potentially sell at.
Second, jump onto YouTube as a YouTube search will help you find tutorials for restoring pieces – examples include: How to Paint Furniture How to Upholster a Chair, How to Fix Chipped Wood, How to Clean Wood, How to Clean Upholstery, How to Glue Broken China, etc.
It's important to perform this research before you even make the purchase. If you make the purchase before doing research, you could potentially purchase items that are already priced low and you won't be able to make a profit on them. You want to stick with the items that will make you the most profit. So do your research before buying anything and make sure that it's not a project that's going to take you several days to complete.
If your goal is to make over $1,000, you need to know exactly what you can and can't fix. Spending too much time and spending too much money on a single item are examples of not how to make $1000 in a garage sale. Spending too much time or money on a single item will drain your resources and lower your profit margins.
How to Make $1000 in a Garage Sale on a shoe-string budget
The goal is to find quality furniture that doesn't require too much work to restore or fix. Try keeping your spending budget below $50 (or get free items whenever you can) to maximize your profits and look for items that are valued over $100. You may need to whip out your phone to do some Googling to get price estimates on what you can sell the items for.
Any time you have the ability to spend X and earn 2X, 3X, or more, you're going to want to do it as fast as possible! Spend $20, make $40+. Spend $50, make $100+. Etc. This is how to make $1000 in a garage sale very quickly with just a little bit of work.
Once you have 10 or more items, you can host a garage sale that has ALL of the items you've gathered. If you sell at least 10 items in one day… Boom. $1,200 made in a single garage sale. Success loves speed, and the faster you push the items, the more items you can sell, and the more money you'll make. And that, ladies and gentlemen, is how to make $1000 in a garage sale.